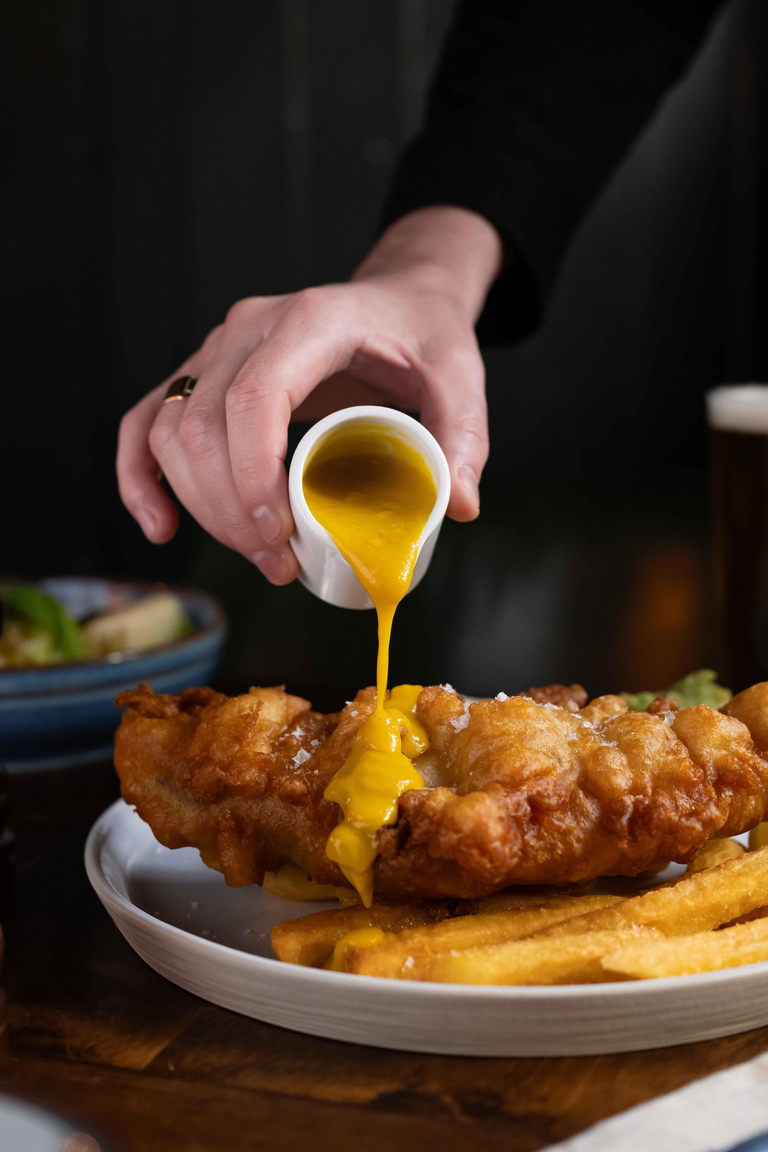 Fish and Chips Recipe
Serves: 4
Cooks in: 1 hour
Difficulty: Easy


Now you know our secrets use this wisely: with great power comes great responsibility!
Ingredients
• 250g self-raising flour
• 100ml chosen ale
• 150ml soda water
• 1 teaspoon of white wine or malt vinegar
• 4 fillets of fish (we use Haddock but Cod, Coley, Pollock are all excellent choices)
• 100g plain flour
• Pinch of salt
• 1L vegetable oil, sunflower oil or rapeseed oil
• 800g chips, allow for 200 gram per serving
• 3g sea salt (we use Maldon sea salt)
• Homemade mushy minty peas
• 2 lemons, halved
• Homemade tartare sauce


Method
Preheat the oven to correct heat for chips.
Place the self-raising flour in a large metal mixing bowl and make a well.
Slowly add the ale, soda water, white wine or malt vinegar into the middle of the well and whisk to a batter consistency. Set this aside for later.
Cover the fish with the plain flour and a pinch of salt, then knock off the excess flour.
Cover the floured fish in beer batter.
Heat oil in a deep saucepan. Remove the fish from the batter and fry each fish fillet until golden brown all over. Be careful not to splash any hot oil.
Oven bake the chips until golden brown, then season with the sea salt.
Carefully remove the fish from the oil using a spider (or a sieve) and lay out on a baking tray lined with kitchen roll to remove oil.
Heat the homemade mushy minted peas.
Serve up the fish and chips with ½ lemon and any seasoning you wish. Place the homemade tartare sauce and homemade mushy minted peas on the side of the plate.